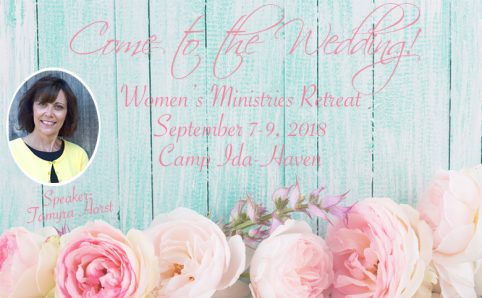 Come enjoy fellowship, fun, and spiritual refreshing with your sisters in Christ up in the beautiful mountains of McCall, Idaho.

Speaker, Tamyra Horst, has been serving God and His daughters in women's ministries for more than 25 years. Her desire is to "encourage, equip and challenge women to grow deeply and serve uniquely." She is passionate about helping women of all ages--young, old and in between-- learn to truly believe that God loves them and live like it. An author of more than nine books and many women's ministries resources, Tamyra is a speaker and leader with a passion for God's Word and sharing Him with others. She serves as the Women's Ministries Director for the Pennsylvania Conference and the Columbia Union Conference. 
Schedule
Friday 
Registration 3-5 pm
Dinner 5:30 - 6 pm
Evening Program 7 pm

Saturday
Early Worship 8 am
Sabbath School 10 am
Sabbath Worship 11 am
Evening Program 7 pm
~~Wedding Reception Saturday Night!~~

Sunday
Early Worship 8 am
Morning Program 10 am
Finished by 12 pm

Silent Auction
We offer partial scholarships to those in need and each year we have a silent auction during the retreat. If you would like to donate to the auction, bring your items and we will do the rest! Donations greatly appreciated!

Boat Rides
Take a boat tour of Payette Lake. There will be a ride Friday afternoon for early arrivers, and various times on Sabbath afternoon. Sign up for your time when you register at camp. 

What to Bring
Bible 
Bedding
Towels and Bathroom Items
Swimsuit
Hiking Shoes

Special Diet Needs
Special diets take extra care and time, therefore it must be noted on registration.

Click here to register online then return to this page to pay via PayPal.

PayPal Payment Options


For more information
Call Leanne Strickland at 208-375-7524
Email Cheri at cheri.gatton@gmail.com

Camp Directions
Camp Ida-Haven is located at 2595 Eastside Road, McCall, ID 83638. Directions from Boise area: From I–84, take Exit 46 (Eagle Rd) North. At the light at State St/Hwy 44 & Eagle Rd, turn RIGHT onto State St/Hwy 44. At a light, turn LEFT (North) onto Hwy 55. Follow Hwy 55 (approx 95 miles) into McCall. Turn RIGHT onto Park St (after the traffic signal and before downtown area). Turn LEFT onto Davis St. Just past the golf course, turn RIGHT onto Lick Creek Rd. Turn LEFT onto Eastside Dr. Drive a couple of miles–the camp is on the left.

***When driving in McCall–be sure to follow the speed limit. 25 means 25!!!

Parking at the camp is near the basketball court–please, no parking in the cabin circle.