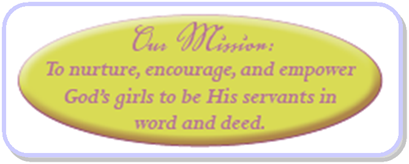 Our Vision:
The Women's Ministries team desires to provide for the involvement, nurturing and spiritual growth of all women, single or married, that she may be empowered to reach her full potential to share the gospel of Jesus Christ with love and compassion to the spiritual, physical, mental, social, and emotional needs of her family, friends, and all people in her area of influence, thus declaring the love of God for fallen humanity. Our ultimate goal is to lead souls to Jesus Christ.
The infidel Voltaire once boastingly said: I am weary of hearing people repeat that twelve men established the Christian religion. I will prove that one man may suffice to overthrow it. Generations have passed since his death. Millions have joined in the war upon the Bible. But it is so far from being destroyed, that where there were a hundred in Voltaire's time, there are now ten thousand, yes, a hundred thousand copies of the book of God.

In the words of an early Reformer concerning the Christian church, The Bible is an anvil that has worn out many hammers. Saith the Lord: No weapon that is formed against thee shall prosper; and every tongue that shall rise against thee in judgement thou shalt condemn.  Isaiah 54:17

-The Great Controversy, p.288

 

Sample Text



Luke 10:38-42

If you find that being productive and pushing for perfection is stealing your joy of living, like it was doing for Martha, maybe it's time for you to choose to be a little more like Mary. Take a break from your "to-do" list and go for the gold of doing "nothing"!

Just enjoy being the person God created you to be instead of thinking you've got to always be doing something productive to be accepted. Remember, you are far more valuable to God than the things you think you have to do for Him!