2020 Prayer Conference with Pastor Randy Maxwell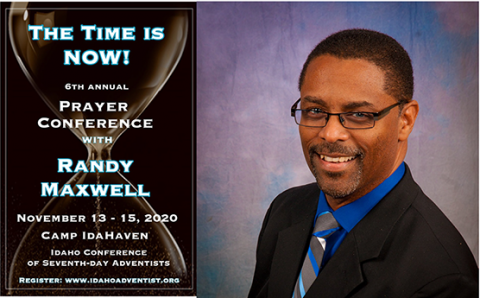 Watch on Facebook.com: click here to watch. This live event is now over. You can click on the link to watch them again.
View the 2020 Prayer Conference videos here without using Facebook.
Watch on YouTube:
Opening session: The Time Is Now to Wake Up
2nd session: The Time Is Now to Be Born Again
3rd session: The Time Is Now to Disturb the Peace
4th session: The Time Is Now to Pray Different
Randy Maxwell Bio
Since January 1, 2016, Randy has served as the pastoral couple for the Renton Seventh-day Adventist Church, a culturally diverse, and vibrant community of faith in Renton, Washington (home of the Seattle Seahawks). Their previous pastorate was in the Idaho Conference at the Kuna Seventh-day Adventist church—a post they held for ten years. Randy also served as Idaho Conference Prayer Coordinator, and as a member of the conference Evangelism and Church Planting Committee.
Prior to this Randy served the church for 18 years as an editor, and the Creative Director for advertising at Pacific Press Publishing Association in Nampa, Idaho.
Randy is an author, conference speaker, and the founder of IF MY PEOPLE PRAY MINISTRIES, through which he has presented prayer and revival seminars across North America and internationally. Randy's seven books include If My People Pray, Bring Back the Glory, On Eagles' Wings, and Boot Camp for the Last Days. Randy is also teaching pastor for eight DVD series, and has made several guest appearances on 3ABN.
The Maxwells have three adult children, one son-in-law, and three adorable grandchildren who are the loves of their lives (one sleeps in Jesus awaiting the resurrection). Besides his family, Randy's passions are prayer, making the Word plain and practical in our everyday lives, and leading people to a saving relationship with Jesus Christ. The motto that drives his life and ministry is: "The need is great. The key is prayer. The time is now."
"For I know the plans I have for you, declares the Lord, plans for welfare and not for evil, to give you a future and a hope. Then you will call upon me and come and pray to me, and I will hear you. You will seek me and find me, when you seek me with all your heart. I will be found by you, declares the Lord," (Jeremiah 29:11–14).