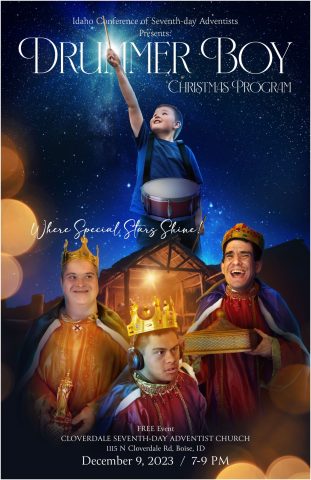 Experience the Warmth of Community and the Joy of Performance this Christmas
The Idaho Conference of Seventh-day Adventists warmly invites your family to "Special Stars," a Christmas program designed to give children of all disabilities their moment on stage. Embrace the season's spirit as we celebrate each unique talent on a stage where every child can shine.
Born from a mother's wish for her son with Down syndrome to play Joseph in the Christmas story "Special Stars" provides a platform where limitations fade and abilities sparkle. What began with 15 participants in Washington has now grown to over a hundred, each sharing the warmth and joy of the spotlight. This initiative is not just about a performance; it's about giving children a stage where their talents and dreams take flight.
As the curtains now rise in Boise, we invite every aspiring performer, every dreamer, to step forward. With Special Stars, there are no disabilities, only the power of possibility.
Is your child ready to step into the warmth of the stage lights this Christmas? We welcome stars of all ages and abilities.
To give your child the gift of a starring role, please get in touch with:
Nitza Salazar
nitza.salazar@idconf.org
Join us to experience the true meaning of Christmas—community, joy, and the chance for every child to shine brightly on stage.
Special Stars 
A Christmas Stage for All-Stars!

Saturday, December 9, 2023
7:00 PM - 9:00 PM

Cloverdale Seventh-day Adventist Church
1115 N Cloverdale Rd, Boise, ID 83713
 
Additional Information 
 
We will have two rehearsals:
1st Rehearsal: December 2 at the Cloverdale SDA Church at 5:30 pm 
                             Only for volunteers. 
2nd Rehearsal: December 8 at the Cloverdale SDA Church from 5-7 pm 
                              Participants and volunteers must attend. 
Participant Form: https://forms.gle/g61Bv5DUwvwbqgqCA
Volunteer Form: https://forms.gle/B2NhEPtEvssLepdSA
There's room for everybody!!