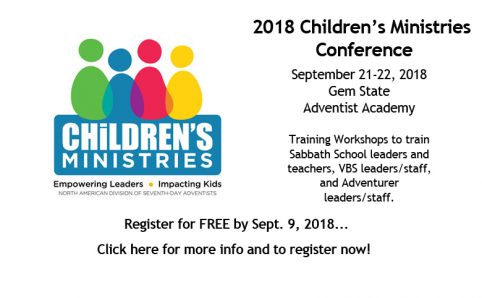 Preliminary Schedule: click here

Who should come?
~Children's Sabbath School leaders and teachers
~Vacation Bible School leaders and staff
~Those who are interested in working in children's ministries

Track 2 of the certification will be taught

Classes will be taught in both English and Spanish (two separate class areas)

No charge for attendees! Lodging will be available in the South Dorm. Sabbath dinner and supper provided for ALL attendees. Sabbath and Sunday breakfast for those staying in the dorm.
 
Click here to register for FREE
Presenters
 

 

 

 

Catrina LeSure (English)
Rosa Morales (Spanish)

Catrina LeSure is the Associate Pastor of Youth and Children's Ministry at Caldwell SDA Church in Caldwell, ID. Her passion for youth and kids led her to get a Masters from Andrews University in 2016. While attending Seminary Catrina joined the NAD Children's Ministries team where she began presenting to help others build up their ministry  to others. Catrina's favorite part of her job is seeing the incredible change Jesus can make in the lives of young people. Catrina loves reading and long walks.

Rosa Morales has worked in pastoral ministry for the Seventh-day Adventist Church for more than 30 years.

Rosa worked as a primary school teacher for the Seventh-day Adventist school system in Peru for many years. She is currently a dual-language primary school teacher for Elgin U-46 School District in Illinois. Rosa works alongside her husband to support Hispanic Ministries in the Illinois Conference. For more than 20 years she has been a Coordinator of Children's and Women's Ministries. She is currently the Children's Ministries Coordinator and the Hispanic Coordinator of Women's Ministries for the Illinois Conference.

For the past ten years, Rosa has worked to develop Children's Ministries Leadership Certification for Children's Ministries teachers across the Lake Union and as a North American Division Children's Ministries presenter.