As of March 17, 2020, we are still planning toward having camp meeting. We will make a final determination on May 4, 2020 whether we can move forward and meet together at Gem State Adventist Academy. Please watch for future announcements.
Young Adults at Camp Meeting

Camp Meeting 2020 is just around the corner and we've got something different planned for Young Adults this year. During the weeknights you're invited to join us and other Young Adults at the following locations: Tuesday (6/9) The Fountains at The Village in Meridian, Wednesday (6/10) Flying M Coffee Garage in Nampa, & Thursday (6/11) Awakenings Coffee House in Boise. Nothing formal those nights, just a time to get acquainted and enjoy a hot or cold drink together on us from 7:00-8:30pm.
Friday night at 7:00pm we'll be getting together on the campus of Gem State Adventist Academy in the (NEW LOCATION) multi-purpose/recreation room in the Student Residence for some music, a message, and mingling. Sabbath morning we'll start with a brunch in the building behind the cafeteria at 10:00am, followed by a time of worship. We'll end the day with a closing session beginning at 7:00pm.
Our theme is Longing for Home and our Speaker is Milton Marquez, the new pastor of The Experience Church and Chaplain of Barefoot Media Ministries. To keep up with the latest make sure to check out the group Idaho Young Adults on the Idaho Conference of Seventh-day Adventist Facebook page.
Updated Camp Meeting Map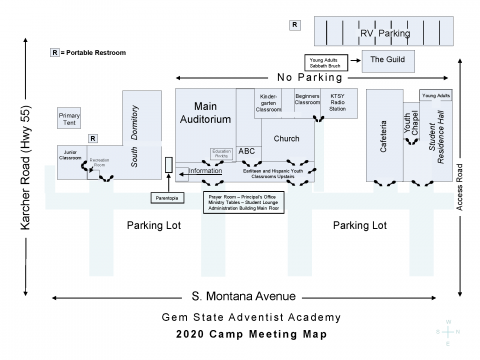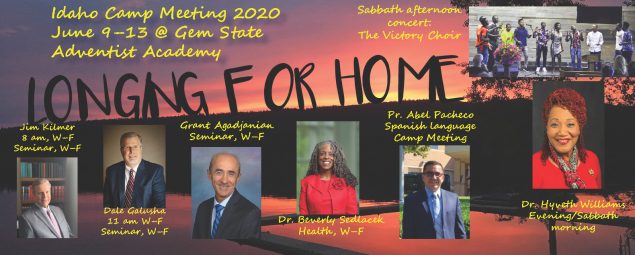 Theme Illustration Contest
Speakers:
Hyveth Williams, Main
Dr. Hyveth Williams served for over thirteen years as senior pastor of Campus Hill Church in Loma Linda, California. She is the first black female pastor and the first female senior pastor in the Seventh-day Adventist denomination. She was recently named Director of the Doctor of Ministry program and also serves as Professor of Homiletics in the Andrews University Theological Seminary.
A graduate of Columbia Union College with a Bachelor of Arts in Theology (1984), Pastor Williams received her Master of Divinity degree from Andrews University Theological Seminary (1989). In 1998 she graduated from Boston University School of Theology with a Doctor of Ministry degree. Dr. Williams holds the distinction of being the first non-Episcopalian to receive the prestigious Fellowship from the Episcopal College of Preachers, National Cathedral, Washington, D.C.
She is the author of four books including her autobiography Will I Ever Learn? One Woman's Life of Miracles and Ministry. Articles by Pastor Williams have appeared in Insight, Signs of the Times, Adventist Review, Ministry, Women of Spirit, Message and Celebration magazines.
Dr. Williams is our evening and Sabbath morning speaker. We welcome her back again, as she was one of our speakers at last year's camp meeting.
Dr. Beverly Sedlacek, Health
Beverly received her Doctorate in Nursing Practice from Andrews University. Her area of expertise is psychiatric nursing. She maintains a thriving private counseling practice counseling hurting people in the areas of trauma, addiction, abuse, relationship difficulties, emotional problems and financial difficulties. Beverly serves as Clinical Director of Into His Rest Ministries, a Christian counseling ministry, where she conducts intensive weekend retreats with groups of women around the country, speaks at conferences and writes.  Beverly is a frequent speaker at churches, workshops and camp meetings all over the world.  She and her husband David, have written a book and workbook entitled, Cleansing the Sanctuary of the Heart:  Tools for Emotional Healing.   When Beverly speaks, she is transparent about her own journey of healing and invite the courageous to join her in God's work of restoration and cleansing the sanctuary of our hearts.  She is passionate about Jesus, and making Him a living, real Savior for young and old alike. She summarizes her life mission through the text Luke 4:18:  "The Spirit of the Lord is upon me, because he has anointed me to proclaim good news to the poor. He has sent me to proclaim release to the captives and the regaining of sight to the blind, to set free those who are oppressed, to proclaim the year of the Lord's favor."
Dale Galusha, Seminar
At a very young age, Dale Galusha felt God's call and has spent his life in various aspects of ministry in the Seventh-day Adventist Church. During his academy and college days, Dale spent summers working at youth camps in Northern California. After graduating from Pacific Union College, he became a youth pastor in the Northern California Conference before attending the SDA Theological Seminary at Andrews University. Upon completing the seminary, he returned to Northern California where he pastored and was conference evangelist. He has conducted evangelistic meetings and field schools of evangelism in a number of countries around the world.
Since 1995 Dale has ministered in different capacities at Pacific Press Publishing Association. He has served as president of PPPA since 2005.
Jim Kilmer, Seminar
"Jim Kilmer's life can be summarized in four words -- service for the Savior.  A native of Washington State, he helped advance the kingdom of God throughout the Pacific Northwest in multiple capacities, including pastoral evangelism and conference Church Growth leadership. His influence has also circled the globe via professorship roles in Africa and Middle East, as well as short-term mission work in Russia. Though "retirement" has brought  him back home, he still tirelessly strives to represent Christ as a mentor and freelance writer."
His most recent Book, Fires of Pentecost on the Battlefront,  shares miracle after miracle of the way the Holy Spirit is reaching souls through humble prayerful member ministers not only in overseas spiritual and actual battlefronts but right here in America.  For more information, see http://jimkilmer.com.
Grant Agadjanian, Seminar
Grant came from a fascinating background. Born of Armenian parents, he was raised in Russia as an atheist. Graduated from College with engineering degree at age 20 and was drafted to serve in Soviet Army in 1980. Following his compulsory service in the Russian army, Grant was seriously ill due to the harsh climate in Siberia. He spent six years in and out of hospitals. At the end of six years of illness, doctors said that he had only one year to live.
At that time a friend gave him a Bible. For the first time in his life, he had a Bible in his hands. As he read the Bible and looked at nature, he came to believe that there is a God. Acting upon the principles in the Word of God, his health began to improve. Grant's wife, Anne, was always searching for knowledge to improve his health and life. Through God's providence she bought a book titled, "Family and Health" in Russian (which was the combination of two books: "Ministry of Healing" and "Adventist Home" by E.G. White). They followed the health principles in this book and Grant's health was restored. They thought that the author of this book was a contemporary writer. It was only as they moved to the United States and met Russian Pastor who studied the Bible with them, that they came to understand the book had been written over 100 years ago.
As Grant discovered the beauty and harmony of the Word of God, the plan of redemption, and the uniqueness of the teachings of the SDA Church, the Holy Spirit led him and his family to baptism which took place at the Loma Linda SDA Church in December 1994.
In 2004, Grant attended a Victory in Jesus seminar presented by Pastor Bill Liversidge in Bakersfield, California. As the Gospel gripped his heart, he was filled with a desire to become a preacher and teacher of righteousness. He developed a close friendship with Pastor Bill, and Bill mentored and trained Grant to share the Good News with great understanding and clarity. Moved by the Holy Spirit, Grant spent countless weekends traveling from church to church opening the beauty of this Good News to souls in need. He was eventually elected Vice President of Creative Media Ministries (CMM) and Director of Media Production.
In 2014, as Grant was preaching in one of the churches in Oregon, he met the Adventist sister in the audience who sold the book by E. G. White to Anne, twenty-five years prior, in Russia. What a joy it was to meet this precious sister!
Grant and his wife Anne are valued members of the CMM team. He not only serves CMM as President of the ministry but speaks and leads weekends of revival across the country.
Abel Pacheco, Spanish Language Camp Meeting
el Pastor Abel Pacheco es originario de El Salvador, en donde trabaja como presidente da la Unión Salvadoreña.  El pastor ha servido a la iglesia por 26 años, junto a su esposa Betty Menendez, como pastor de distrito, departamental, secretario ejecutivo de la unión y ahora como presidente. ellos tiene 3 hijos. Joanathan Pacheco, quien sirve como pastor, Keren Pacheco quien trabaja en la contabilidad en la asociación Oriental de El Salvador y Josias Pacheco quien estudia en secundaria. pese a que el pastor Pacheco es un administrador, su pasión sigue siendo el evangelismo el cual sigue predicando activamente varias veces al año.
Pastor Abel Pacheco is originally from El Salvador, where he works as president of the Salvadoran Union.  The pastor has served the church for 26 years, with his wife Betty Menendez, as district pastor, departmental, union executive secretary and now as president. They have 3 children. Joanathan Pacheco, who serves as a pastor, Keren Pacheco who works in accounting at the Eastern Association of El Salvador and Josias Pacheco who studies in high school. Although Pastor Pacheco is an administrator, his passion remains evangelism which he continues to preach actively several times a year.
Sabbath Afternoon Concert
The Victory Choir is presenting our Sabbath afternoon concert on June 13, 2020 at 3:30 pm in the Main Auditorium. Last year, they presented a mini concert. Come and enjoy the tight harmonies, the beautiful music from this choir from the Oasis Adventist Church in Boise. The choir is made up of Adventist Rwandan refugees.
More information will follow in the coming months... check Facebook.com/IdahoCampMeeting